Rupali Ganguly as Anupama was born on the 5th of April 1977 (age 45). She is an Indian actress primarily known for her work in Indian television shows, acting since 1985 – present, married to Ashwin K Verma ​(m. 2013)​ with one child. She studied hotel management and theatre, before being chosen for the lead role in a television show, Sukanya. Born to film director Anil Ganguly, Ganguly started her acting career as a child, making her acting debut at age seven in her father's film Saaheb (1985). Since then she has appeared in many other films and series some of which are; Angaara (1996), Do Ankhen Barah Hath (1997), Baa Bahoo Aur Baby (2005), Parvarrish – Kuchh Khattee Kuchh Meethi (2011), following which she took a sabbatical from acting. After a seven-year hiatus, Ganguly returned in 2020 with the soap opera Anupamaa.
She told ETimes in an interview, "When I joined Anupamaa, I was a little plump and I told our producer Rajan Shahi that you want a heroine and at this age, let me lose some weight. But the producer told me that he didn't want a heroine but a mother instead. 'I want a mother and you are perfect for the role because mothers are like this. Mother's don't get time to hit the gym and have a perfect figure and have a flat stomach. Maa maa hoti hai, she will first think about her kids, family, house and later maybe she will think about herself if she gets time'."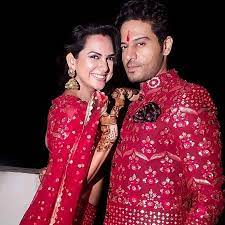 Gaurav Khanna as Anuj "AK" Kapadia aka Anuj Buddy was born 11th December 1981 (age 40). He is an Indian television actor and model, acting since 2003 – present. His first appearance on a television show was in the hit show Bhabhi as Bhuvan Sareen. His next notable role was in Kumkum – Ek Pyara Sa Bandhan as Sharman Wadhwa. Khanna's first lead role was in Meri Doli Tere Angana in 2007. he has appeared in films and shows such as Yeh Pyar Na Hoga Kam as Abeer Bajpayee opposite Yami Gautam in 2009, Dancing Queen and was also seen in popular show CID as Senior Inspector Kavin.
In early 2016, Khanna was revealed to be dating television actress Akanksha Chamola. The couple were married on 24 November 2016 in his hometown Kanpur.
In an interview with India Forums, Gaurav discusses being a part of this innovative program and asserts that change is unavoidable and that those who believe in evolving through time are the ones who survive. The actor also talked about how the world has to reform and be aware of what is going on around it. Additionally, he expressed his happiness at being a part of the program that encourages change and highlights people's realities as well as the complexities of their experiences in life. In addition, Gaurav praised the audience for their fervent support of Anuj's character and the show. He also expressed gratitude to Rajan Shahi for giving him this position.
Sudhanshu Pandey as Vanraj Shah was born 22nd August 1974 (age 47 years). He is an Indian singer, film and television actor, acting since 2000 – present. Married to Mona Pandey ​(m. 1996) with 2 sons. Sudhanshu Pandey was first reported in the media for being a part of India's first ever boy band, (A Band of Boys) in the early 2000s. A few years later, the group disbanded and Sudhanshu ventured into acting. He has appeared in various films and shows such as Billa II (2012), Meaghamann (2014), Dus Kahaniyaan 2007 and more. Since 2020, he has been portraying the main antagonist Vanraj Shah in Anupamaa which help him gain widespread popularity among Hindi-speaking audience.
Talking about his new-found popularity with Aupama, Sudhanshu told ETimes, "If I tell you frankly, I had never imagined that Anupamaa will be such a huge hit. I had a gut feeling that the show would be successful but I had not imagined it would become this massive hit. I was also not aware of the popularity and reach of television. I have done close to 48 films and some of them have been big budget ones. I have done a Hollywood film and the biggest Indian film, Robot 2.0."
He added, "I have worked with Jackie Chan, Rajnikanth sir, Akshay Kumar. I made a debut with Akshay and actresses like Raveena Tandon, Priyanka Chopra, Gracy Singh have been my heroines in my films. But the popularity I've got from Anupamaa, I have not experienced anything like this before even after doing these big budget films."
Madalsa Sharma Chakraborty as Kavya Shah was born to actress Sheela Sharma and film producer and director Subhash Sharma on 26 September 1991 (age 30). A model and actress who became interested in acting as a career at an early age after completing her schooling from Marble Arch school, where she studied English literature. She is married to Mahaakshay Chakraborty, son of Mithun Chakraborty in 2018.
she has appeared in various fims since 2009 – present some of which are Fitting Master (2009), Angel (2011), Dil Sala Sanki (2016), In May 2022, Chakraborty repeated her role of Kavya Gandhi in Anupamaa's prequel web-series Anupama: Namaste America's last episode.
The popular actress Madalsa Sharma, who plays Kavya in the TV series Anupamaa, recently had a wonderful surprise on the set of her program. The actress had a nice surprise when her parents and husband Mahaakshay Chakraborty showed up on the sets to greet her. The actress is now filming in Silvassa, far from her home.
Madalsa uploaded a couple photos of her family and hubby on her Instagram account when she was smiling with happiness to see them.
Paras Kalnawat as Samar "Bakuda/Samu" Shah Paras was born 9th november 1996 (26years). He did his class 12 in a school in Nagpur. Kalnawa desired to go into acting since childhood. while he was in school, he took part in plays and after completing school, he moved to Mumi to pursue a career in acting.
Paras Kalnawa started his career as a model in 2016 by participating and winning The Peoples Choice Award, Max Elite Model Look Competition.
Vidhvaan Sharma as young Samar is an actor and child artist from India, he is also known as Vidhaan Sanjay Sharma. born on August 23, 2003, at the age of 8 in Mumbai, Maharashtra, India. Vidhaan Sharma has so far worked in the Bollywood entertainment sector, and Hindi-language television programs and films have included his artwork.